Dette indlæg er skrevet af Adam, en af vores superdygtige amerikanske udviklere, der sidder på vores kontor i San Francisco.
Greetings, fellow Billy buddies! I'm Adam Robertson, developer at Billy's Billing, and I'd like to introduce an exciting new feature that we've released. At Billy's Billing, we realize that getting paid is an important part of keeping your business running, and we'd like to help out as much as we can. We just launched an overdue invoice reminder feature that will help you to send reminders and collect invoices from your customers. Would you like a reminder scheme for all your invoices? Create a reminder scheme and set it as your default. Have a customer that's slow to pay? Create a more aggressive reminder scheme for specific contacts to help you collect. Want to add late fees at specific intervals? No problem, let Billy handle that for you!
Creating an invoice reminder scheme
Go to Indstillinger > Rykkerprocedurer > Opret rykkerprocedure.
Name, description, and settings
In the top section, you may provide a name and description for your reminder scheme, neither of which will be visible to your customers. Under the "Settings" section, you can select the minimum number of days between notifications for a particular client. In the case that you have multiple invoices overdue with one client, Billy's Billing will only notify your customer once for the number of days specified.
We realize that you may have overdue invoices in your organization that you would not like processed by a new invoice reminder scheme, so we've included an option to exclude invoices with a due date earlier than specified. The most safe option for this setting is to set it to the current date, so only invoices with a due date in the future will be processed.
The final option in this section is whether or not you would like to receive a summary email when invoices are processed by an invoice reminder scheme. If you would like Billy to send reminders and apply late fees without sending you an email, please uncheck this option.
Actions
In this section, you can define one or more actions to be processed on a particular day past due. This will always send your customer a notification with a subject and a message of your choosing, but you may also optionally set a flat and/or percentage fee. It's that easy!
Choosing a reminder scheme for a contact
You may select a reminder scheme for one or more contacts if you like. To do so, go to Alle kontakter, select a contact, and click Ret kontakt. Under Rykkerprocedure, select a reminder scheme and click the save button. Selecting a reminder scheme for a contact will override your default reminder scheme, if set.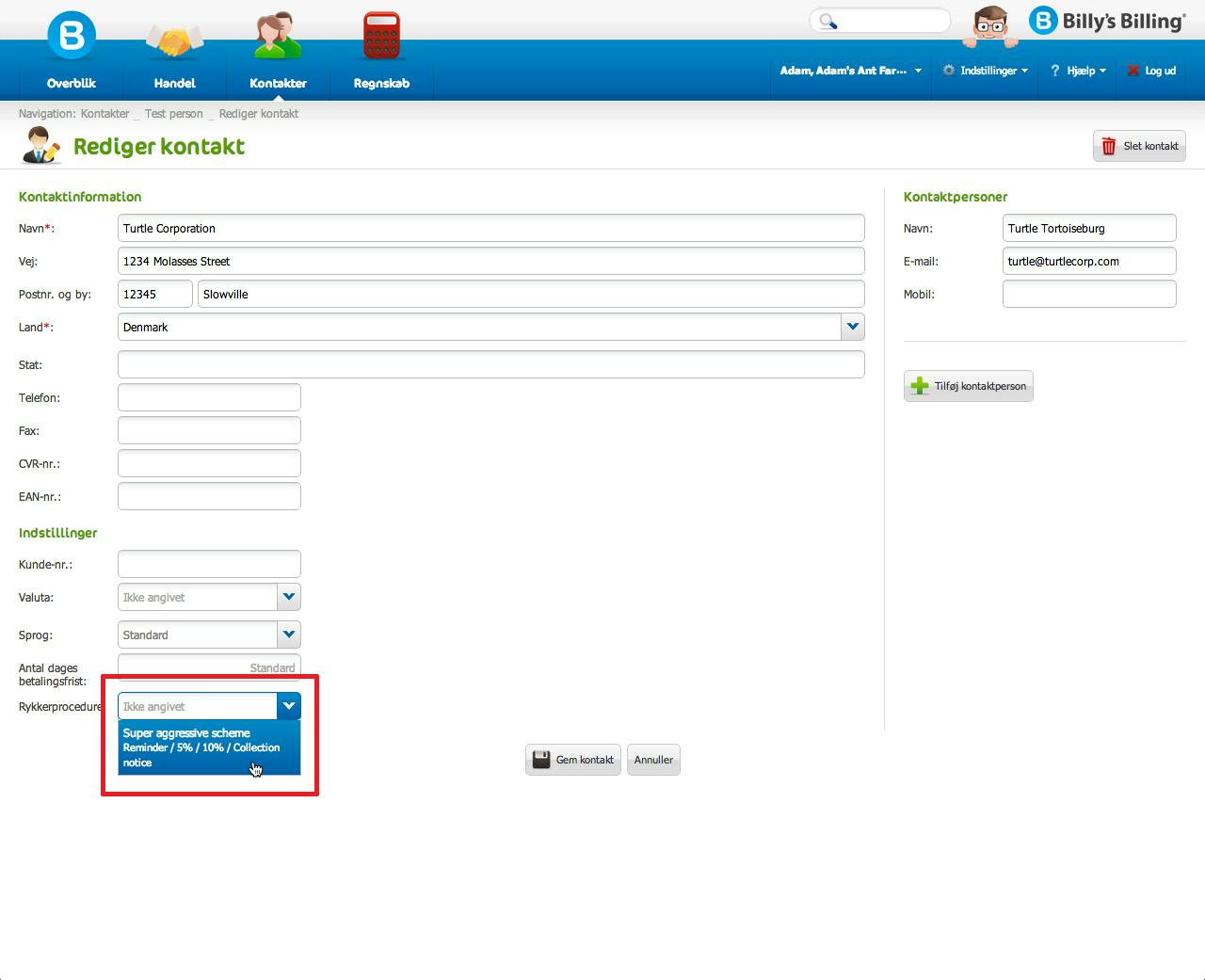 Reminder processing
Every night, Billy will collect all the reminders and fees to be sent, and send an email to your customers along with your custom message and a PDF summary of overdue invoices. Please note that if you have past due invoices for a customer, it will process the first action immediately and carry out additional actions according to the scheme's schedule. It is important to realize that when setting a default scheme for your organization or a specific contact, Billy's Billing will attempt to process all overdue invoices. We will show you a notification about all the invoices that will be affected, but it is important to note that you may be processing many invoices the first time an invoice reminder scheme is run.
We hope you like this new feature, and we're offering it to you for free to help you collect your invoices in a timely manner. If you have any questions or comments, feel free to get in touch with us by contacting support or leaving a comment below!